Weifang Forward Welding Materials Co., Ltd.
Sales MIG Welding Wire and Submerged Arc Welding Wire
OUR HONORS:
Honors

the member of China Iron & Steel Association

√ China Chamber of Commerce of Metals Minerals & Chemicals Imp. & Exp.

√ top 500 enterprises in manufacture industry of China

√ top 100 enterprises in Shandong Province

√ top 10 enterprises in Weifang City
WELDING PRODUCTS:
1

Product Name

WELDING WIRE ( MIG WELDING WIRE| MIG WIRE )

ER70S-6

CO2 Gas Shielding

Welding Product| Welding Materials| Welding Consumable

2

Executive Standard

GB/T 8110 ER50-6/ AWS A5.18 ER70S-6/JIS Z3312 YGW12

3

Approval Certificate

CCS, ABS, NK, KR, LR, GL, DNV, ISO9001, ISO14001, OHSAS18001

4

Size

0.8MM, 0.9MM, 1.0MM, 1.2MM, 1.6MM

5

Package

15kg/D270 Plastic Spool, 16kg/box, 72boxes/pallet, 24pallets/1x20'GP

Net Weight: 25.92tons for 1x20'GP

Gross Weight: 27.80tons for 1x20'GP

6

Price Terms

CIF, CFR, FOB, conforming to INCOTERMS2010 Rules

7

Terms of Payment

30% T/T in advance, 70% balance against B/L copy

8

Lead Time

within 10~25days after receipt of deposit

9

MOQ

24~25tons for one full 20ft container load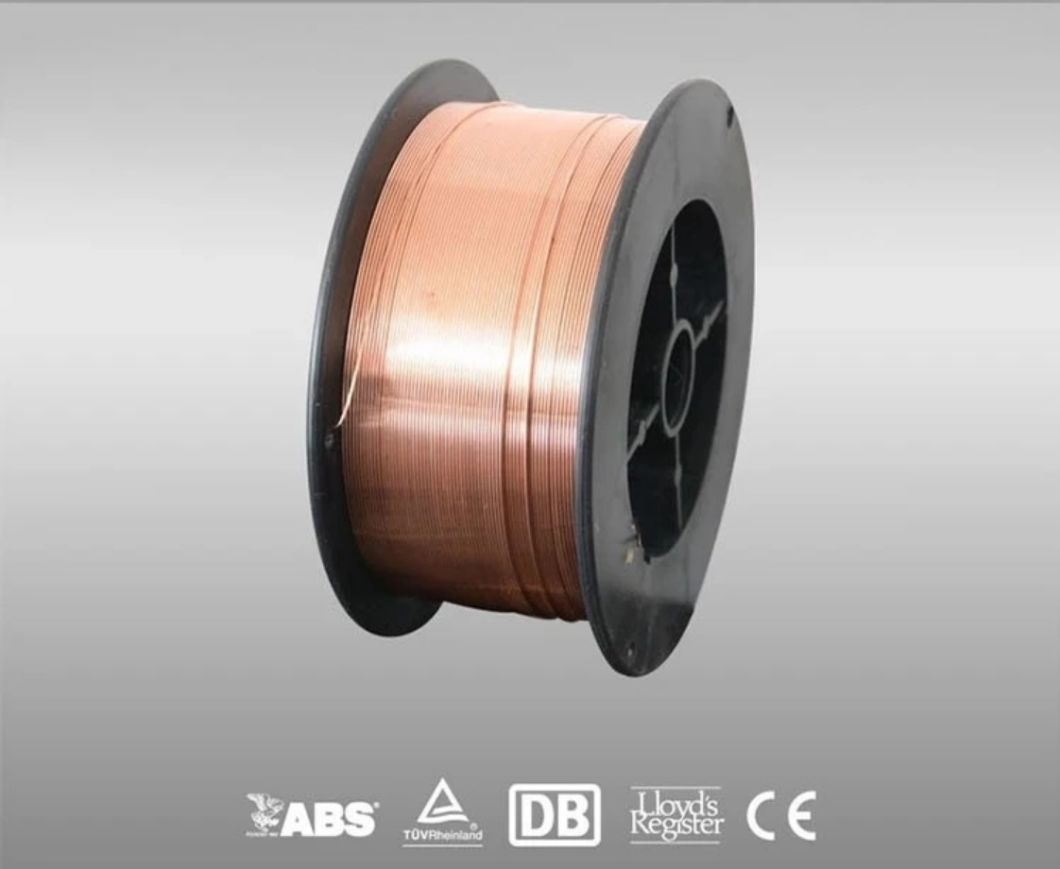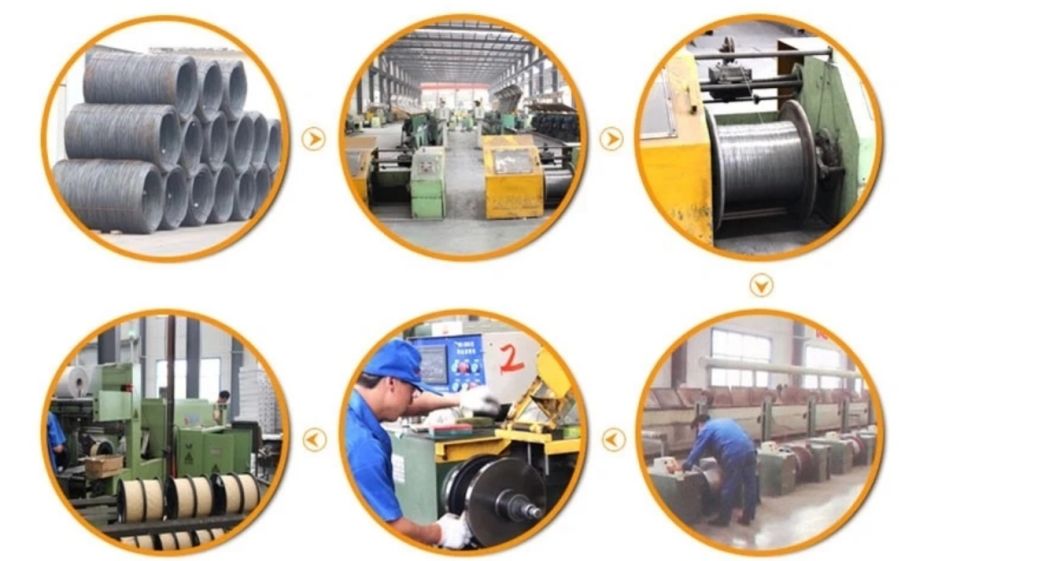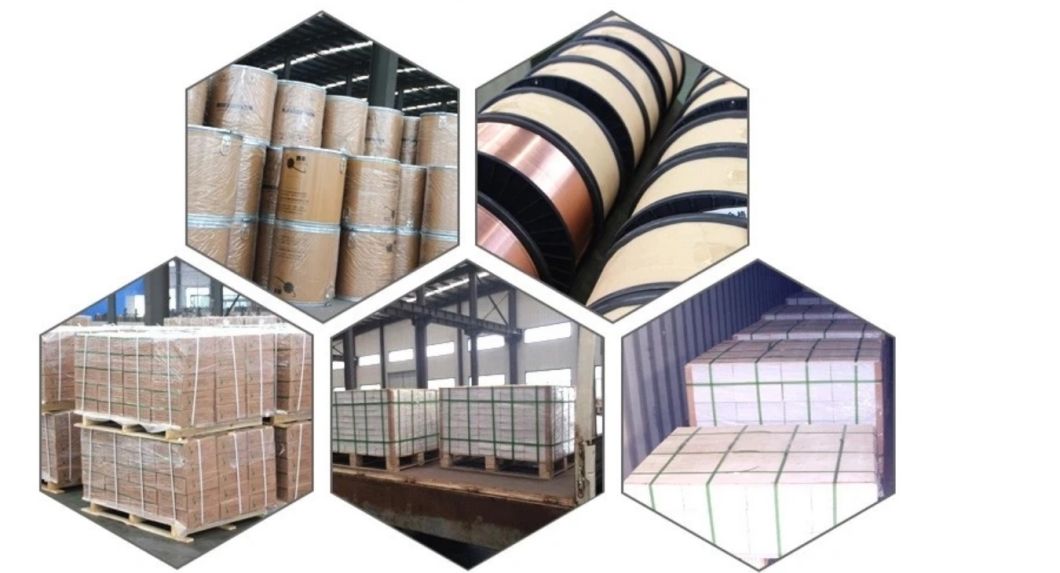 ABOUT PACKAGE:
Available Diameter

0.8mm, 0.9mm, 1.0mm, 1.2mm, 1.6mm

Packing Standard

5kg/D200 Plastic Spool, 5.6kg/box, 200boxes/pallet, 24pallets/1x20'GP

15kg/D270 Plastic Spool, 16kg/box, 72boxes/pallet, 24pallets/1x20'GP

250kg/drum, 4drums/pallet, 22pallets/1x20'GP

350KG/drum, 2drums/pallet
WHAT IS GAS SHIELD WELDING WIRE?
It is a kind of mild steel copper coated welding wire, suitable for 100% CO2 and Argon& CO2 mixed gas protective welding with stable feasibility, good welding seams, less spatters and excellent welding process properties.



General Applications:
widely used in the steel structure welding
√ high temperature cyclone separator,
√ coal machinery,
√ ships,
√ engineering machinery,
√ bridges,
√ pressure vessels,
√ building construction and etc.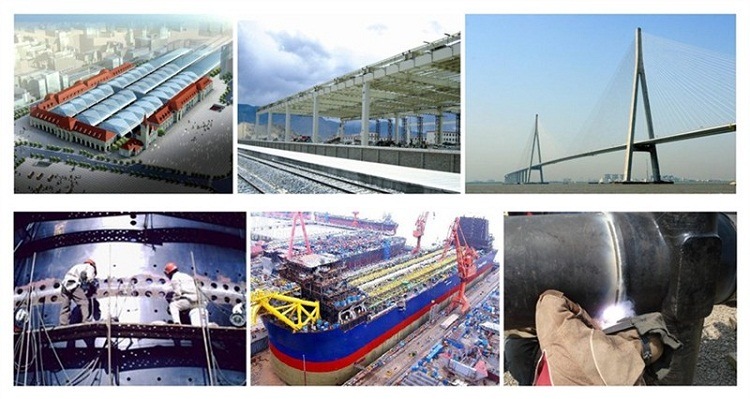 THAT'S WHY TO CHOOSE US!
Main Characteristics:
A. Low welding costs.
B. High productivity and low electricity consumption.
C. Easy to operate. All-position welding.
D. Very low hydrogen content in the weld and lower nitrogen content. Excellent crack-resistance.
E. Little deformation after welding.
F. Wide applicability. Suitable for welding thin, medium and thick plates.

Important Notes about How to Use and Store:
1. The wires must be stocked in dry circumstances. Don't open the anti-moisture package of spools to avoid rusting.
2. Before welding, rust, oil, water and impurities are to be moved from the surfaces of base metal.


Our Professional Supports:
1. 24 hours on-line services, Email, Whatsapp, WeChat, Skype and Celephone.
2. Professional technique support
2-1. R&D LAB
2-2. TEST LAB
3. OEM and ODM services are available
4. Delivery time: within 15~30days after confirming purchase order
5. Strict quality control system

MIG WELDING WIRE SPECS:
Standards and steel grade

GB

ER50-6
ER50-G

AWS

ER70S-6
ER70S-G

Specificationφ(mm)

0.8-1.6

0.8-1.6

Welding wire chemical composition

C

0.06-0.15

≤0.10

Mn

1.40-1.85

1.40-1.90

Si

0.80-1.15

0.55-1.10

P

≤0.025

≤0.030

S

≤0.035

≤0.030

Cr

-

Al≤0.10

Ni

-

Ti0.12-0.20

Cu

≤0.50

≤0.50

Mechanical properties of deposited metal

σs(MPa)

≥420

≥420

σb(Mpa)

≥500

500-660

σ5(%)

≥22

≥22

AKV J(ºC)

≥27(-29)

≥47(-20)

Shielded gas

CO2

CO2

Description

For welding low carbon and high strength steel structures of 500MPa

For welding low carbon and high strength steel structures of 500MPa, also used for high current welding
FEATURED PRODUCTS:
1. ER70S-6 SOLID WELDING WIRE
2. MIG WELDING WIRE(MIG WIRE)
3. TIG WELDING WIRE
4. SOLID SOLDER WIRE WITH COPPER COATED
5. EL12 SAW WIRE H08A
6. EM12 SAW WIRE H08MnA
7. EH14 SAW WIRE H10Mn2
8. WELDING ELECTRODE E6013
9. STEEL WIRE ROD ( SWRH, SWCY, SAE1006,SAE1008,Q195,Q235 )
10. STEEL WIRE( SURFACE: PLAIN, SPIRAL RIB, INDENTED )
11. PC STRAND ( 1x7wires ASTM A416 )
Be confident in our strength:
WEIFANG SPECIAL STEEL GROUP.
A LARGE STEEL MILL
SINCE 1972