12 x 14 # Factory Galvanized Barbed Wire Barbed Wire Fence
Material: Galvanized steel wire, PVC coated iron wire in blue, green, yellow and other colors.
Patterns available: Single Twisted Barbed Wire/ Double Twisted Barbed Wire/ Traditional Twisted Barbed Wire.

Feature: Galvanized Barbed wire offers a great protection against corrosion and oxidation caused by the atmosphere. Its high resistance allows greater spacing between the fencing posts.
Packing: In coils. 12-25kg.
Type
Wire Gauge (SWG)
Barb Distance(cm)
Barb Length (cm)
Electric galvanized barbed wire,
Hot-dip zinc plating barbed wire
10# x 12#
7.5-15
1.5-3
12# x 12#
12# x 14#
14# x 14#
14# x 16#
16# x 16#
16# x 18#
PVC coated barbed wire,
PE barbed wire
Before coating
After coating
7.5-15
1.5-3
1.0mm-3.5mm
1.4mm-4.0mm
BWG11#-20#
BWG8#-17#
SWG11#-20#
SWG8#-17#
PVC PE coating thickness: 0.4mm-0.6mm; different colors or length are available at customers request.
Classification
There are three kinds of barbed wire according to the different twist method.
Single barbed wire /double barbed wire / traditional barbed wire.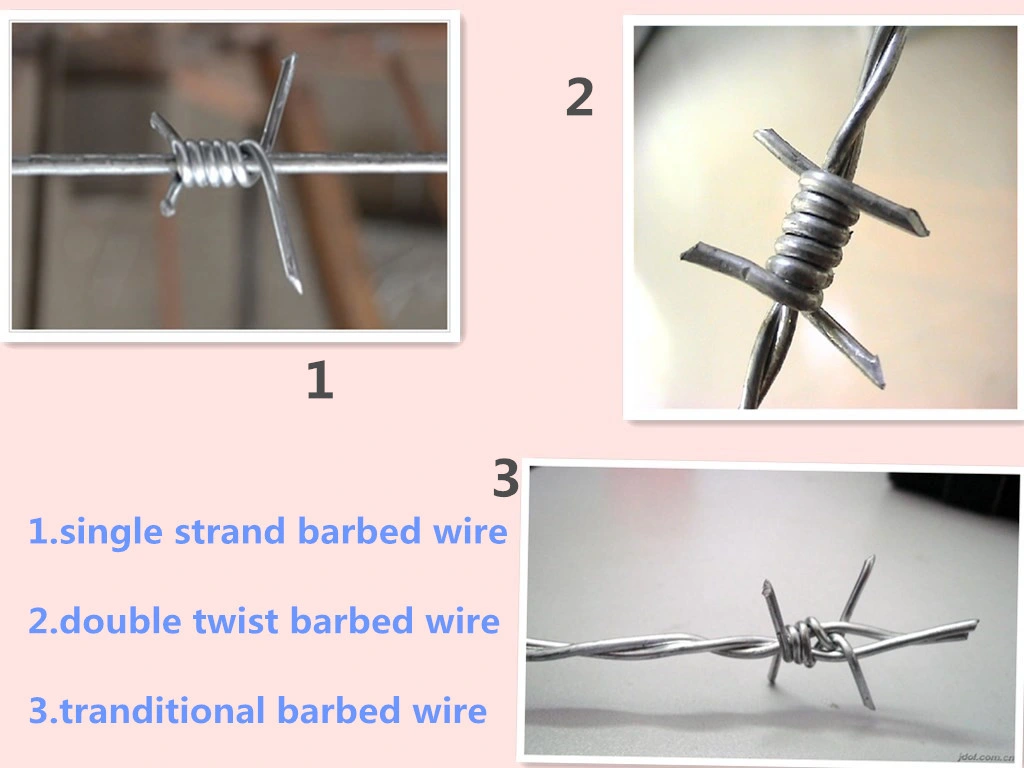 Application:
Barbed wire mainly used in protecting of grass boundary, railway, highway, wine, prison, etc.